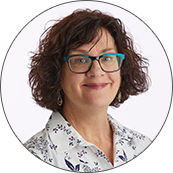 Diana Fingal
Director of Editorial Content
Diana Fingal, director of editorial content, has been writing, editing and curating top-notch content for ISTE members for nearly a decade.

Whether she's overseeing posts for the ISTE Blog or planning the articles for Empowered Learner magazine, her aim is always to give passionate educators resources and ideas to empower students and nurture thoughtful critical thinkers.

She loves interacting with all educators, from classroom teachers to superintendents, who work so hard to make sure every child thrives.

She previously spent 25 years as a newspaper reporter and editor in Oregon, California, Nevada and in the far-flung locations of Alaska and Ukraine.

Diana also served in the Peace Corps where she taught English to bright, funny and magnificent children in Yalta on the Crimean Peninsula. That experience taught her that no matter the educational system, students everywhere have a thirst for learning and an innate desire to succeed.