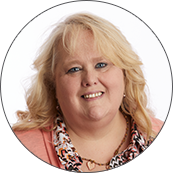 Danielle Hunsaker
Marketing Production Manager
Danielle Hunsaker, marketing production manager, supports and collaborates with staff in every ISTE department. Her responsibilities include marketing vendor relations, project management, budgeting and management of the media associates program. She also handles all ISTE Central logistics for the annual ISTE Conference & Expo.

She's been a team player at ISTE since 1996.

Dani loves football, camping and visiting the Oregon coast. A serial supporter, she helps a local country band with its marketing and frequently assists friends and family with celebrations and events.