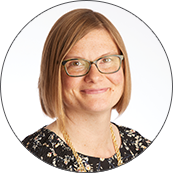 Emily Reed
Managing Editor
Emily Reed, managing editor of ISTE books, has over 10 years of experience in publishing. She joined ISTE in 2012 and has assisted in the publication of many of the organization's book offerings. In addition to shepherding books through editing and production, Emily manages the two ISTE research journals, Journal of Research on Technology in Education and Journal of Digital Learning in Teacher Education, and organizes the bookstore at the annual ISTE Conference & Expo.
Prior to coming to ISTE, she worked for an educational publisher where she supervised the development of textbooks and ancillary materials.
She earned bachelor's degrees in English and Spanish from the University of Oregon and completed a certificate program in editing from the University of California, Berkeley.