Bill Bass Past President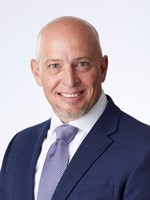 Bill Bass is a former English teacher who now serves as Innovation Coordinator for Instructional Technology, Library Media and Federal Programs in the Parkway School District in St. Louis, MO. As a speaker, writer and professional developer, he focuses on systemic and sustainable integration of technology into classrooms at all grade levels.
Bill currently serves as President of ISTE Board of Directors and was named as one of NSBA's 20 to Watch EdTech Leaders. He is a Google Certified Innovator, Google for Education Certified Trainer and has written numerous articles, book chapters and has authored three books: From Inspiration to Red Carpet (ISTE 2012) Digital Reading: What's essential in grades 3-8 (NCTE 2015), and Leading from the Library (ISTE 2019).
Innovation Coordinator
Parkway School District
Saint Louis, MO
United States
Committees
ISTE Board of Directors
Membership Linkage Committee
Board Nominating Committee
Governance Leadership Committee