Cecilia Rodríguez Alcalá Member-at-Large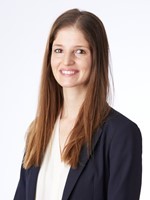 Cecilia Rodríguez Alcalá is the Founder of Paraguay Educa, an NGO that has created the first "digital city" in Paraguay by providing 20,000 children with access to technology and pedagogical innovations. Cecilia has also participated in the coordination of a multi-party group of civil-society organizations and active citizens called Ahora.py to approve the first government trust fund in Paraguay, which provides $1 billion for education and R&D. Currently, Cecilia works as a Senior Policy Advisor for the Interamerican Development Bank providing expertise and support for social and innovation programs.

Cecilia holds a double major in International Relations and History, with a minor in Political Science from Tufts University. She was awarded with the AMBA student of the year recognition for her MBA studies at IE Business School.
Contact
Cecilia Rodríguez Alcalá
Senior Advisor, Innovation and Sustainable Development Policy
Interamerican Development Bank
Committees
ISTE Board of Directors
Financial Oversight Committee
Membership Linkage Committee