Nikole Blanchard Treasurer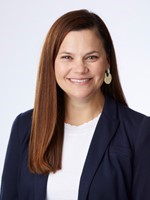 Hard to believe it, but in 2003 Nikole Blanchard was part of a pilot program at Louisiana State University (LSU) where student teachers used laptops in the field. Nikole was blown away by the way students needs could be met with technology. Pursuing this interest, Nikole graduated from LSU with a Masters of Arts in Educational Technology. She is also a National Board Certified Teacher, Apple Distinguished Educator, Google Innovator, Apple Teacher, Swift Playground Teacher, Google Certified Trainer, PBS Learning Media Innovator and Microsoft Innovating Educator.
Nikole is extremely passionate about networking and learning from other educators! She is the founder of a technology network in Baton Rouge, Louisiana. She is also a board member of Baton Rouge's Edcamp and Louisiana IT Symposium. In 2016, she was a member at large for ISTE's Innovation Teaching PLN. Currently, she serves as a Playground Chair for the Global Collaboration PLN.
Nikole is the Director of Innovation and Technology at an independent school. The school has been recognized six consecutive years as an Apple Distinguished School. Through an exciting program, Nikole led 93 teachers to 100% Apple Teacher. A career highlight for Nikole was sharing the stage with Apple's CEO, Tim Cook in 2018. She told her technology story making history - the first time non-Apple employees spoke during an Apple Keynote.
Nikole travels the world training teachers on technology and working with educators on one-to-one best practices. In her spare time, Nikole enjoys spending time with family. Nothing is better than tailgating for an LSU Tiger game while enjoying jambalaya and fried oysters!
Director of Innovation and Technology
The Dunham School
Baton Rouge, LA
United States
Committees
ISTE Board of Directors
Financial Oversight Committee
Governance Leadership Committee