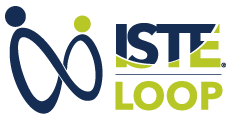 WELCOME TO THE FUTURE of professional Learning and NETWORKING.
Welcome to ISTE Loop.
Professional networks are invaluable when it comes to lifelong learning, yet expanding those networks is not easy: It always takes time, often requires travel, and fundamentally requires a bit of luck to find new colleagues to learn from and work with.
We're making connecting easy!
Connecting with new professionals in your field can be difficult to arrange. Even in the best of circumstances, finding a good match with new potential collaborators often requires a strategic personal introduction or is dependent on luck – chance encounters with new people like finding a seat adjacent to them in a conference session, standing in line next to them waiting to buy a cup of coffee, or reaching out to them in a webinar.
ISTE Loop solves this problem by matching people with shared interests … effortlessly and effectively … to foster professional connections and facilitate lifelong learning.
ISTE Loop can help advance learning and grow professional networks for many types of organizations in almost any field, including…
Associations seeking new ways to build community and support member engagement.
Education communities - including school districts, teacher networks, and higher education consortia - wanting to support professional learning and networking for faculty and leaders.
Communities of practice and professional networks looking to expand ways members can connect and learn from each other.
Large companies wanting to build stronger cross-departmental connections and nurture new collaborations.
Industry experts looking to connect with new collaborators.
Where there's community, ISTE Loop makes connections. The possibilities are endless.
How it works
ISTE Loop is elegantly simple.
Each week, Loop participants, or "Loopers," as we call them:
Receive an email asking if they want to "opt in" for conversation that week or not, and if so, indicate the time that works best for them.
Receive a calendar invitation containing a videoconference link and information about their match (only if they opted in for the week).
Meet briefly to share ideas and explore new potential collaborations.
We also regularly survey participants to better understand what they're talking about with the new people they meet through Loop.
The match
ISTE Loop uses a proprietary algorithm to match participants. We make great matches by pulling from information that participants provide in a profile that takes less than 10 minutes to set up. Once that's done, Loop will introduce participants to someone new for each week they opt in. Too busy to meet in a week? Don't worry, Loopers can "opt out" any week they are too busy.
One of the features Loop participants love is that matching happens entirely through email. That means there's no need to log into a "platform" to meet new people and grow their network. However, the simple ISTE Loop dashboard functionality offers participants the ability to update their matching preferences, view or cancel upcoming meetings, and see a record of everyone they've already matched with.

Are you interested in learning more about ISTE Loop?
ISTE Loop is customizable, and we'd love to talk about making it work for you.
Include anyone you want in a cohort that's the right size for you.
Feature your brand for your audience with whitelabeling options.
Run on any schedule and for any duration … although weekly for a year can work quite well.
Serve as an add-on to a virtual event … where your participants meet someone new once a day for a week.
Provide valuable feedback about what your audience is talking about.
Connect professionals in your network conveniently, meaningfully and simply.
Contact us using the form linked here if you'd like to talk about making ISTE Loop work for your organization or network!
You can also explore the Frequently Asked Questions page to learn more or see the Code of Conduct page to view our community expectations. Cheers to making new connections!
Looking to join an ISTE Member Loop Cohort? Sign up here.