October 28, 2015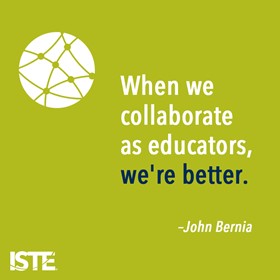 Newly elected leaders will serve three-year term starting in January 2016
WASHINGTON, D.C. – Oct. 29, 2015 – The International Society for Technology in Education (ISTE®) today announced the 2015 candidates for its board of directors. Six education leaders, including three incumbents, are running for three seats and the opportunity to provide strategic leadership and fiduciary oversight to the international nonprofit. Elected candidates will serve a three-year term, beginning January 2016.
All current ISTE members may vote for up to three candidates. Voting will take place online beginning Nov. 9, 2015 and ending on Dec. 7, 2015. Candidates will be actively campaigning and a webinar to meet the candidates is scheduled for Nov. 12, 2015 at 5 p.m. EST.
The 2015 candidates for the ISTE Board of Directors are:
William "Bill" Bass, innovation coordinator for Instructional Technology and Library Media, Parkway School District, and adjunct professor of education, Missouri Baptist University
Robert Leneway, Ph.D., associate professor of educational technology, Western Michigan University
Sheryl Nussbaum-Beach, CEO, Powerful Learning Practice
Karen Swift, head of department, Business & Digital Technologies, James Nash State High School
Mila Thomas Fuller, Ed.D., deputy executive director, National Council of Teachers of English
Mia Kim Williams, Ph.D., associate professor, Curriculum Studies and Educational Technology, University of Northern Colorado
Candidates are encouraged to campaign using social media #ISTEBoard and in ISTE Commons, the ISTE member online community.
About ISTE
The International Society for Technology in Education (ISTE®) is the premier nonprofit organization serving educators and education leaders committed to empowering connected learners in a connected world. ISTE serves more than 100,000 education stakeholders throughout the world.
Innovative offerings include the ISTE Conference & Expo – the world's most comprehensive ed tech event – as well as the widely adopted ISTE Standards for learning, teaching and leading in the digital age. The organization's robust suite of professional learning resources features online courses, consulting services for schools and districts, books, and peer-reviewed journals and publications. For more information, visit iste.org. Connect with ISTE via Twitter, Facebook and LinkedIn.