May 19, 2020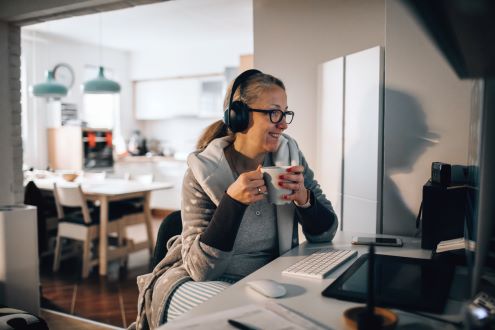 With school closures likely to extend into the 2020-21 school year, educator readiness remains a large barrier to online learning implementation. In some states, previous investments in educator capacity for effective edtech use have facilitated smoother transitions to online learning. Therefore, ISTE believes that ongoing coaching and professional development will be critical to ensuring that all educators can design and deliver active learning opportunities, and educators must continue to advocate for increased federal funding required to meet this need.
To support such efforts, ISTE recently collaborated with the National Association of Secondary School Principals (NASSP), the State Educational Technology Directors Association (SETDA), and Learning Forward to send a letter to key Congressional committee members, recommending "at least $200 billion in additional funding for K-12 education through the existing Education Stabilization Fund, with at least $2.13 billion of that sum flowing to professional learning with a particular emphasis on delivering and developing educator skills in an online environment and other strategies to keep learning going." In total, 62 national and regional organizations signed the letter, including ISTE's affiliate organizations and members of the COVID-19 Education Coalition.
Last week, the U.S. House of Representatives passed the HEROES Act, which permits the use of stabilization funds for "ongoing professional development to staff in how to effectively provide quality online academic instruction." However, the HEROES Act's appropriation of only about $60 billion for the stabilization fund falls far short of the $200 billion that ISTE and its allies sought and that national experts have recommended. The U.S. Senate will now consider whether to take up the HEROES Act or craft a new relief package.
Why must federal policymakers provide supports for educator professional development at this time? We asked several leaders and educators from around the country:
"Teacher training remains central to ensuring high-quality remote and blended learning. In Connecticut, we heard from educators and leaders alike that they were not prepared for the overnight shift to remote learning. And while schools will hopefully reopen this fall, some form of blended learning will continue for the foreseeable future to keep the education community safe. If teachers do not receive targeted, timely and sustained professional development that helps address specific instructional needs — from supporting English language learners to conducting small-group reading sessions and addressing social and emotional learning — our students will continue to fall behind in their learning."
— Doug Casey, executive director of Connecticut Commission for Educational Technology and member of SETDA Board of Directors
"Federal funding provides a vital investment into the knowledge, skills and abilities that Virginia's teachers must have to empower learners. Designing and facilitating distance learning opportunities has required critical thinking, creativity and courage from our teachers. Each of these high-quality attributes is sustained by professional development, learning and growth."
— Rod Carnill, supervisor of instructional technology coaches at Frederick County Public Schools and vice chair of the Virginia Society for Technology in Education
"Teachers in Pennsylvania need to learn about and implement an entirely new pedagogy for the virtual settings that they have never taught in before, including online instructional and assessment strategies. It takes a significant financial investment for a teacher to learn how to teach in a brick-and-mortar setting. That same investment will need to be made for teachers to learn how to teach in a digital setting."
— Hollie Woodard, secondary English teacher at Council Rock School District and advocacy chair of the Pennsylvania Association for Educational Communications and Technology
"It is clear that more support than ever is needed for educators in Illinois. No matter where an educator was on the scale of using educational technology before COVID-19, transitioning to a remote classroom for the long term has been a challenge. It is now imperative that we offer educators professional learning that will support their needs in designing effective experiences for students in a blended learning environment."
— Amber Heffner, executive director at the Illinois Digital Educators Alliance
"It is time to activate anticipatory leadership, rather than a reactive one. California's educators responded to the global crisis brought forth by the coronavirus by closing vast amounts of opportunity gaps in education in a matter of weeks. It is critical that our federal policymakers respond to this momentum by providing flexible funds that allow educators to provide safe and effective learning structures and environments."
— Pam Gildersleeve-Hernandez, executive director at CUE, Inc.

What can educators do to advocate?
Federal policymakers must know that increased federal funding is necessary to ensure that equitable learning can continue to happen. On this page, educators can find a number of materials, including a customizable email template, that they can use to quickly send a message to members of Congress. Some sample tweets to send to your members of Congress include:
Thank you [INSERT THEIR HANDLE] for supporting students and educators during #COVID19. We ask you to increase federal education funds in the next relief package. https://bit.ly/2T2PSZE #COVID19 #edpolicy #edtech #LearningKeepsGoing

Educators' capacity to lead effective remote instruction is critical as schools remain closed. That's why 62 organizations are calling on Congress to support increased federal funds. https://bit.ly/2T2PSZE [INSERT THEIR HANDLE] #COVID19 #edpolicy #edtech #LearningKeepsGoing
Strategic implementation of federal funding also matters to a great extent. Educators can work with their state and district leaders to ensure that funds provided under the CARES Act and any future federal relief packages are invested in the most essential priorities. ISTE provides various policy recommendations and resources to help leaders get started, including:
The nation is at a crossroads between stepping back from supporting our schools or doubling down to ensure that equity gaps do not widen, and educators can play a key role in helping federal policymakers understand the critical need for those investments.
Ji Soo Song is ISTE's senior policy associate.