November 12, 2020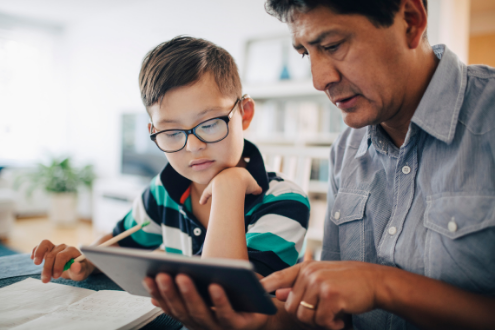 The 2020 campaigns leading up to Election Day 2020 have been contentious, and the issue of how to ensure safe and effective student learning during the ongoing pandemic has been a flashpoint. By and large, President Donald Trump and Congressional Republicans have pushed to reopen schools in-person safely, even going so far as to tie in-person learning to COVID-19 relief funds. Democrats, on the other hand, have been more cautious, seeking to provide funds that support both in-person and remote learning. With a new administration apparently just around the corner, now is a good time to consider how President-Elect Joe Biden would handle remote learning and other issues that impact digital learning.
Below we analyze key items to pay attention to as we transition to the new administration. Additionally, please join us for a session at ISTE20 Live, "Recovering from COVID-19: Looking Ahead on Education Policy in 2021," to learn more about the election's expected impact.
Biden victory and two major agenda items to watch
With Biden victorious in the presidential race, educators and education leaders now turn their eyes to several items outlined in his campaign agenda and the Biden-Sanders Unity Task Force recommendations that have major implications for digital learning.
First, the Biden campaign platform supports "teacher mentoring, leadership and additional education." Specifically, it states: "We need more opportunities for highly effective teachers to remain in the classroom and advance in their careers." The president-elect has also called for tripling Title I under the Every Student Succeeds Act (ESSA), which provides support for at-risk students. Further, the Biden-Sanders Task Force recommends fully funding Titles II-A and IV-A. Under ESSA, states and districts may use funds under these programs to support educators' capacities to effectively use technology for learning.
Second, the Biden-Sanders Task Force's recommendations include support for increasing students' access to the internet, proposing to "improve and expand the federal E-rate … program to support and increase technology access in public schools." The campaign also recognized the need to address the homework gap — the lack of home internet access and appropriate devices for millions of rural, low-income and minority students.
Potential barriers in the U.S. Senate
Pursuing this policy agenda inevitably requires support from the legislative branch, and current election results point to potential future barriers. Republicans may retain the majority in the U.S. Senate, as Democrats have only definitively gained two Senate seats in Arizona and Colorado, while losing one in Alabama. While two Senate seats remain to be decided in the January Georgia runoff elections, the odds are high that Senator Mitch McConnell (R-Ky.), who was just re-elected to his seat, would remain as majority leader by one or two votes. This narrow Senate Republican majority would require Biden to persuade more moderate Republican Senators like Lisa Murkowski (R-Alaska), Susan Collins (R-Maine), and Mitt Romney (R-Utah) to advance his education and edtech agenda.
With the current head of the Senate Health, Education, Labor and Pensions (HELP) Committee, Senator Lamar Alexander (R-Tenn.), retiring, it is unclear which Republican Senator would replace him. It is also unclear whether the new HELP chair would be in favor of taking up education authorization bills in line with the new administration's agenda or other bills that various education organizations, including ISTE, have supported in 2020 — such as the Learning Opportunity and Achievement Act, which provides funds for online learning professional development, and the Save Education Jobs Act, which provides funds to protect educator positions impacted by the pandemic, including edtech coaches and library media specialists.
What about the stimulus?
Although the House passed an updated version of the HEROES Act back in October, which includes funding for at-home internet connectivity and professional development in online learning, negotiations between the White House and Speaker Pelosi stalled before the election. Sen. McConnell has indicated that passing a relief package before the end of the year is "job one" and that he is willing to consider including aid for state and local governments, which would in turn fund schools. It's worth noting that McConnell's previous draft education relief bills proposed a relatively small pot of funds for schools (with a portion tied to physical school reopenings) and no funding for the homework gap.
Furthermore, it remains uncertain whether President Trump would be willing to continue stimulus negotiations during the lame duck period. If no COVID-19 relief bill goes forward this year, it could be another few months before state and local education agencies receive additional federal support.
What you can do?
Another critical matter federal policymakers will be thinking about in the next few weeks is the continuing resolution that temporarily funds the government through Dec. 11. To avoid a government shutdown, the Senate introduced its FY21 education funding bill and will negotiate a final deal with the House, which passed its version of this bill months ago. Now is a good time to reach out to your members of Congress to protect programs that fund edtech priorities during these negotiations. See ISTE's resources for sending a message around Titles II-A and IV-A of ESSA.
Should any education funding bills be passed in the near future, you can continue working alongside local and state leaders on the implementation of those critical dollars. For more information, see ISTE's guide to helping state and district leaders understand how to best leverage federal funds appropriated under ESSA to support educators in effectively using technology for learning.
---
Jon Bernstein, founder and president of the Bernstein Strategy Group, has worked in federal education, technology and telecommunications policy for more than 25 years and has represented ISTE in Washington, D.C., for more than 15 years.
Ji Soo Song is a senior policy advisor at ISTE. He analyzes policy issues related to open educational resources, evidence-based teaching and learning, and federal education funding.