June 26, 2022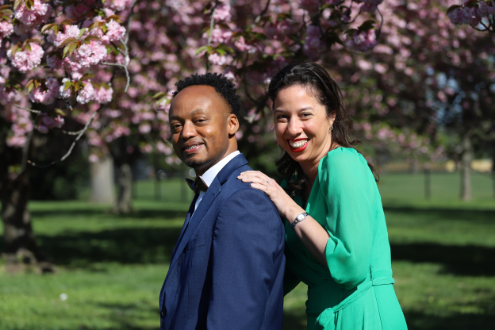 People attend the ISTE conference for many reasons. They expect to be inspired by passionate educators and want to be empowered by learning opportunities and global experts. But most people don't expect to find love.
And romance was not on the minds of Tara Linney and David Lockett when they first met at ISTE19 in Philadelphia.
Linney, who is director of TL Specialists and is an ISTE Community Leader, was busy reconnecting with ISTE friends and orchestrating a conference scavenger hunt.
Lockett, at the time a middle school STEM and computer science teacher, was focused on his duties as the leader of the ISTE STEM and Computer Science PLNs.
"It wasn't love at first sight because we were both busy," Linney said.
But Lockett confesses to an early attraction. He attended all her Minecraft and Microsoft sessions. "I would go and cheer her on at every session, and I don't think she even knew."
Their relationship slowly grew over the next couple of years as they saw each other in monthly PLN leader meetings. When COVID hit, their connection began to deepen. Virtually, of course.
The two participated in YouTube Live Trivia Nights with other ISTE PLN leaders. Linney knew something was up when Lockett, winner of the 2020 ISTE STEM PLN Award and current fellow at NASA, didn't answer a question about space. As the notetaker, she was looking down at her paper instead of noticing that he wasn't focused on the game. He was focused on her.
The two continued to talk regularly and help each other through the social isolation and widespread protests of 2020 and 2021. Lockett was in D.C. during the election and the insurrection. They spoke on the phone throughout the turmoil. Once, as Linney was driving across the country, she was caught in a rainstorm, and Lockett stayed on the phone with her for two hours.
A move and a budding romance
A few weeks later, Linney told her dad she would marry David one day.
"The pandemic allowed us to take a long, awkward pause to consider our values in life. I've become more of an advocate and become less quiet when I see injustices," says Linney. "I found my voice during the pandemic."
In August of 2021, Linney moved to Washington, D.C., to take a contract job with BreakFree Education and be closer to her best friend and fellow ISTE member, Sarah Thomas. That's when Linney and Lockett started dating IRL.
When asked when they knew they were right for each other, Linney laughs. As educators, they pick up on the lingo of the kids they teach, so she decided to ask him to DTR (define the relationship). That clarified things, and they were officially dating. Lockett recalls that it was a memorable day – the day of her best friend's birthday and the day her business, TL Specialists, earn its business certification.

In December, just three short months later, the two escaped to Florence, Italy, for a two-week vacation. While at Antinori New Chianti Classico winery, Lockett dropped down to one knee and asked Linney to marry him. Happily, she agreed.

"We have a lot in common with regard to our work, but personality-wise, we are polar opposites," says Linney. "I think it works best that way. It 's great to have a thought partner. I tend to be laser-focused, and he helps me see the bigger picture."
Getting married at ISTELive in front of thousands
The two considered having the ceremony in Philadelphia, the city where they first met, but decided to bring their relationship full circle and get hitched in New Orleans among their friends at ISTELive 22.
During the opening ceremony on Sunday evening, the two took their vows with Cicely Day officiating.

"We were so excited to celebrate our wedding at the ISTE conference," Linney said. "The ISTE conference marks the place where we first met years ago, and the connections that brought us together are all linked to being members of and volunteers in the ISTE organization."
Jennifer Snelling is a freelance blogger from Eugene, Oregon.