April 30, 2019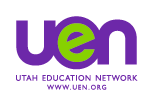 SALT LAKE CITY — The Utah Education Network (UEN) has been selected by the International Society for Technology in Education (ISTE) as an ISTE Certification Authorized Provider and will begin offering the first-ever ISTE Certification to educators in Utah.
ISTE Certification for Educators is the only competency-based, vendor-neutral certification focused on digital age pedagogy and based on the ISTE Standards for Educators. This certification recognizes educators who demonstrate the effective use of technology for learning in meaningful and transformative ways.
"ISTE Certification for Educators not only provides direction and consistency in teaching and learning with technology but is entirely tied to student outcomes," said Justin Brooksby, UEN associate director for professional development. "Educators at all levels within all regions and content areas will benefit from this high-quality professional learning. This certification will help guide educators to create technology lessons and activities that have real-world implications and are engaging to students."

ISTE Certification was developed by ISTE to support systemic change in schools and districts by preparing educator cohorts that can serve as models and mentors for their peers. Candidate educators will participate in a rigorous process that includes both in-person and online training. After completing the training, participants have six months to compile artifacts and reflections into a portfolio to earn certification.
"ISTE is proud to be working with the Utah Education Network to provide access to the ISTE Certification program for teachers and leaders in Utah," said ISTE CEO Richard Culatta. "We are excited by Utah's ongoing commitment to use technology to bring innovation and opportunities for all students. The ISTE Certification will support this commitment by recognizing and validating educators who are using technology to make learning more engaging and relevant for students as well as provide a path for teachers who are ready to take their practice to the next level."
This unique certification is designed to help PK-12 educators rethink and redesign learning activities with technology to engage students in real-world, authentic and active learning. The vendor- and device-neutral certification program focuses on the content and learning activities of the seven Educator Standards: Learner, Leader, Citizen, Collaborator, Designer, Facilitator and Analyst. Educators who complete the certification will have the opportunity to earn graduate-level credits through ISTE's partnership with Southern Utah University.
ISTE has selected UEN based on its proven track record for delivering high-quality professional learning focused on education and education technology use to educators. Through UEN's partnership with the Utah State Board of Education they will be able to offer the Utah Educational Technology Endorsement to all Utah teachers who complete the certification. UEN will begin providing ISTE Certification workshops in June.

Educators and leaders interested in learning more about ISTE Certification for Educators in Utah may visit www.uen.org/iste.

###

About UETN

One of the nation's premier education networks, the Utah Education and Telehealth Network brings together two well-established organizations that provide critical statewide services to Utah: The Utah Education Network (UEN) and the Utah Telehealth Network (UTN). An innovator in broadband and broadcast delivery of statewide educational and telehealth resources, UETN's robust network connects all Utah school districts, schools, and higher education institutions to quality educational resources.
Providing network, application and support services to more than 1,500 schools, colleges and libraries, UETN also serves more than 70 hospitals, clinics and health departments in urban, suburban and rural areas of the state using interactive video to deliver patient care, provide continuing education to health professionals, and to facilitate administrative meetings.
About ISTE

The International Society for Technology in Education (ISTE) is a nonprofit organization that works with the global education community to accelerate the use of technology to solve tough problems and inspire innovation. Our worldwide network believes in the potential
technology holds to transform teaching and learning.
ISTE sets a bold vision for education transformation through the ISTE Standards, a framework for students, educators, administrators, coaches and computer science educators to rethink education and create innovative learning environments. ISTE hosts the annual ISTE Conference & Expo, one of the world's most influential edtech events. The organization's professional learning offerings include online courses, professional networks, year-round academies, peer-reviewed journals and other publications. ISTE is also the leading publisher of books focused on technology in education. For more information or to become an ISTE member, visit iste.org. Subscribe to ISTE's YouTube channel and connect with ISTE on Twitter, Facebook and LinkedIn.