June 9, 2021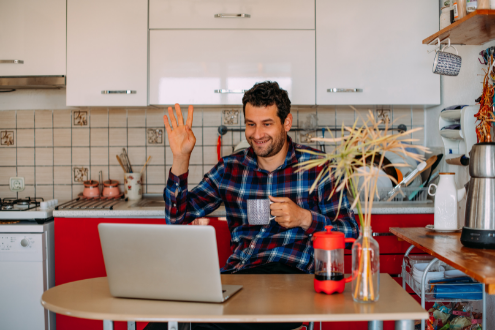 It would be an understatement to say that educators at all levels stepped up during the pandemic. The switch to remote learning, and then the move to hybrid, presented challenges to every single educator — from the special ed teachers and classroom assistants to the classroom teachers, tech coaches, librarians and superintendents.
Not one of these educators could have pulled off their role without the help of the education community. That's what ISTELive 21 is celebrating this year — the innovation and achievement that comes from working together to improve teaching and learning. 
In our second year of presenting a fully virtual event, we've committed to making educator professional learning safe, affordable, convenient, connected — and fun. Because if there's one thing we've all learned from our students, it's that when learning is engaging and entertaining, it's also effective. 
Get ready to be inspired by some thought-provoking speakers from the world of education and beyond. This year we're bringing you voices like Leslie Odom Jr., who earned a Tony, Grammy and an Emmy and is best known for his role in "Hamilton." You'll also hear from Dr. Priscilla Chan, co-founder and co-CEO of the Chan Zuckerberg Initiative, and U.S. Secretary of Education Dr. Miguel Cardona.
Whether you're one of the thousands of educators already registered or are just about to sign up, we've got tips, advice and practical strategies to make this conference productive and fun.  
1. What's new at ISTELive 21
We've added improved functionality, exciting new gaming elements and more recorded sessions to the ISTELive experience this year. Find out what's new this year as you get ready for the best virtual education conference out there. 
2. A learning platform like no other. 
The ISTE conference is known for its passionate attendees, lively sessions and myriad opportunities to connect with expert educators. And we've built a custom platform that incorporates all these aspects of the face-to-face conference. You'll enjoy gaming elements, multiple ways to chat with presenters and attendees and loads of sessions in various formats curated especially for you. Watch this video to see what it's all about!
3. Learning from education's finest.
Watch these five videos where ISTELive 21 presenters delve into topics like assistive technology tools for struggling students, creating a classroom genius hour, using breakout games and more. These expert speakers are just a handful of the educators who will offer practical advice and best practices to help you solve your toughest challenges. 
4. Tips and tricks for attending ISTELive 21.
Three prominent educators share what they've learned from attending virtual events. 
5. Bring a team to spread the wealth.
Ushering in large-scale change to a school or district requires a deep cultural shift. Read about how a Texas superintendent used a novel approach to get his educators competing to win registration to the ISTE conference and in the process, they designed some innovative lessons.
6. Get a sneak peek at ISTELive 21 sessions.
ISTELive presenters are not that different from you. They're educators who try out new approaches and relish the opportunity to share what they've learned with others. No doubt you'll find hundreds of topics relevant to your teaching situation led by your peers. Read these blog posts and watch these videos to learn more about what some ISTE presenters will be sharing:
Jaime Donally: Create AR Using These 5 Apps
Tim Needles: Students Can Create a Work of Code Art
Manuel Herrera: Drawing as a Thinking Process
Carl Hooker: It's Time to Re-Evaluate K-12 Assessments
Sheryl Abshire: Need an edtech grant? Then get writing!
Desiree Alexander: Digital Breakout Tips
Leslie Fisher: Familiar Tools Offer New Tricks for K-12 Educators
Jorge Valenzuela: A New Framework for Activating Equity and SEL in the Classroom
Carrie Rogers-Whitehead: How to empower — not scare! — parents about technology