Download the Crisis Management Report
There are a number of simple steps you can take to ensure that policymakers recognize the importance of edtech — such as calling, tweeting or sending letters about the need to invest at the federal and state levels. ISTE strongly encourages the edtech advocacy community to take action and participate in our advocacy campaigns.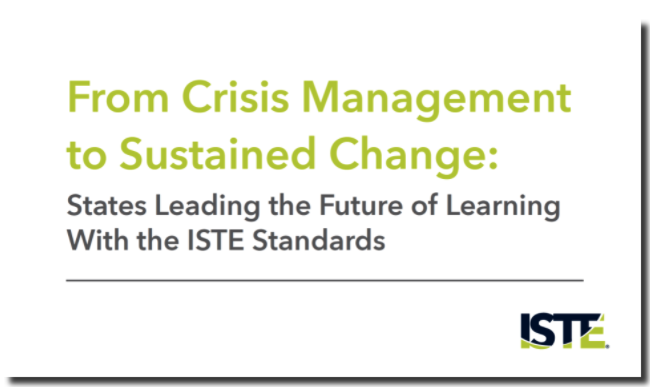 "Crisis doesn't cause innovation – it sets the conditions for creative people to redefine the future."
- Richard Culatta, ISTE CEO
How can state education leaders collaborate with stakeholders to not only remedy immediate needs around remote learning, but also take strategic steps to provide all students with equitable, empowering learning opportunities made possible through technology?
Executive Summary
Fueled by the rapid transition to online and blended instruction in response to COVID-19 and continued need to equitably improve student outcomes, educators and leaders across the country have faced an unprecedented challenge to design, implement, and scale learning strategies made possible through technology. This challenge also presents a new opportunity, as systems and strategies used to address COVID-19 can also propel our schools forward towards the future of learning and better meet students' and educators' needs.
Research has continuously shown that, when used effectively, technology makes it possible to facilitate all students' growth as lifelong, empowered learners, thereby closing equity gaps and accelerating the learning process. Therefore, it is imperative that we consider how we can both use digital tools and resources to ensure continuity of learning during COVID-19, as well as leverage these unique circumstances to design a more effective and equitable future of education.
Unfortunately, COVID-19 has exposed a deep lack of expertise among educators when it comes to using technology in ways that accelerate learning. Therefore, state education leadership is critical for uplifting educators to design and implement transformative learning strategies and models enabled by technology.
The next step for state leaders in ensuring the effective use of technology for learning must involve the establishment of a clear, shared vision around essential educator skills and competencies necessary for student empowerment. The ISTE Standards for Educators provide a roadmap for educators to empower students with technology by serving as learners, leaders, citizens, collaborators, designers, facilitators, and analysts.
To identify how states are advancing this strategic vision at this critical moment, ISTE conducted a systematic review of each state's reopening and/or remote learning guidance documents. Through this review, ISTE identified states that have established a clear vision around the role of technology, as measured by their support for critical educator skills and competencies grounded in the ISTE Standards for Educators. ISTE also identified states that are lacking these critical elements.
Our analysis shows:
All states align to at least some elements of the ISTE Standards.
The majority of states have a vision that aligns to the learner, collaborator, designer, and analyst standards.
The leader, citizen, and facilitator standards are missing in many states.
At least nine states are currently planning systemic efforts that will scale effective practices and build support structures to serve districts more equitably in their implementation of learning strategies that empower students through technology.
Using these key takeaways, as well as insights gained from interviews with several exemplary state and district leaders, ISTE offers state leaders three core recommendations for establishing and implementing an ambitious vision for the future of learning. These recommendations aim to equitably empower students through technology, with the ISTE Standards as a critical tool to support all three. Such efforts must also lie in parallel with initiatives to provide all students with access to devices and connection to the internet, thereby narrowing the digital divide that currently inhibits students from taking full advantage of technology-enabled learning.
Set a shared vision for the future of learning enabled by technology.

COVID-19 provides a unique moment for state leaders to collaborate with — and generate buy-in among — stakeholders by developing a vision and guiding framework for the effective, empowering learning practices enabled through technology. This effort is critical whether learning occurs in face-to-face, online, or blended environments and can be achieved in part through a deeper focus on comprehensively implementing the newest generation of the ISTE Standards.

Build the capacity of educators to lead and implement effective learning strategies enabled by technology.

Implementing the central vision for the role of technology in learning (recommendation 1) requires aligned capacity building. State leadership and strategic incentives (e.g. micro-credentials, relicensure credits, endorsements) are needed to ensure all educators develop and apply their knowledge of effectively integrating technology into instruction, grounded in the ISTE Standards. State-coordinated investments into high-quality professional development and digital resource sharing opportunities are also necessary. Furthermore, state leaders can use the ISTE Standards for Educators to support educator preparation programs in comprehensively ensuring that new educators are ready to use technology effectively from day one.

Develop policies and structures to guide schools and districts equitably and sustainably towards the future of learning enabled through technology.

State policymakers can fund critical instructional support staff, such as technology coaches and library media specialists, to ensure that educators at all levels of experience are prepared to design and lead effective learning strategies supported by technology. State policymakers can additionally rethink policies around traditional instructional time and assessments, which allows flexibility for educators in approaching those learning strategies.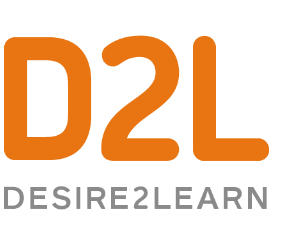 ISTE thanks D2L for their support of this research and report.