Carla Jefferson Member-at-Large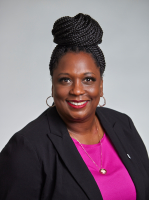 Carla Jefferson is the proud principal of the Darlington County Virtual Academy for the Darlington County School District. A 24 year veteran educator, she's been a classroom teacher, curriculum facilitator, and district level administrator. Her motto, "Why Not Darlington?", inspired by a colleague, motivates her to fight for digital equity, not only for the children of Darlington County, but children all over.
Carla is an Apple Distinguished Educator, Google Certified Educator/Trainer/Innovator, PBS Lead Digital Innovator, a frequent ISTE presenter and a 2020 ISTE featured speaker. Her work has been highlighted in several publications including ISTE Empowered Learner, Tech & Learning Magazine, and District Administrator. Carla served on the ISTE Digital Equity PLN Leadership team, was a member of the South Carolina ASCD Board, and was the 2019-2020 chairman for the SCASA Instructional Technology Roundtable. She lives by the creed, "If not me, who? If not now, when?"
Principal
Darlington County Virtual Academy, Darlington County School District
Darlington, SC
United States
Committees
2022 ISTE Board of Directors
Board Nominating Committee
Membership Linkage Committee