Marlon Styles Jr. Member-at-Large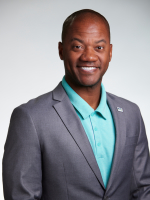 Marlon Styles, Jr., is the Superintendent at Middletown City School District (OH). During his career he has served as a Math Teacher, 7-12 Principal, and Executive Director of Curriculum & Instruction.

In 2017, Mr. Styles received the Center for Digital Education Top 30 Digital Trailblazers Award. Under his leadership in 2019, Middletown City Schools earned the ISTE Distinguished District Award for ensuring equitable, accessible, and appropriate technology use for all students. He was recently recognized as the 2020 K-12 DIVE Superintendent of the Year. Mr. Styles is passionate in his efforts to close the systemic equity gaps many students in this country face. He is devoted to transforming education and finding ways to integrate technology to create inclusive learning experiences for all students. He can often be found on social media promoting the district's positive #MiddieRising culture.
Contact
Marlon Styles Jr.
Superintendent
Middletown City School District
Middletown, OH
United States
Committees
2022 ISTE Board of Directors
Executive Compensation Committee