Marlon Styles Jr. Member-at-Large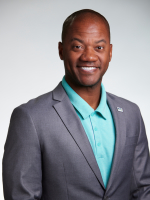 Marlon Styles is a recognized inspirational speaker and educational leader. In 2017, he was named a Top 30 Digital Trailblazer by the Center for Digital Education. Under his leadership at Middletown City Schools, the district was awarded the ISTE Distinguished District Award in 2019. He testified before the United States Congress in 2020 to advocate for access and opportunity for all students. K-12 Dive recognized him as the Superintendent of the Year in 2020 for his advocacy and leadership to close equity gaps on a national stage.
Styles is a Unifier in education who works to create cultures which people win. His mission is to inspire educators to see themselves as empowered Unifiers capable of creating the types of learning experiences today's modern learners need to thrive. He currently serves as a Partner at the Learner-Centered Collaborative.
Contact
Marlon Styles Jr.
Partner
Leaner-Centered Collaborative
Middletown, OH
United States
Committees
Board of Directors
Executive Compensation Committee