Member-at-Large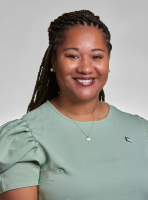 Patricia J. Brown, known as "MsEdtechie", is the Director of Technology Services for the Ladue School District. As a 21-year veteran educator, she helps break down traditional classroom walls by creating a culture that fosters the 4C's and authentic learning. She is passionate about closing the digital equity divide through access and opportunity and sharing practical techniques to create meaningful technology interactions and make global connections.
Among her many accolades, she was selected as a National School Board Association's 20 to Watch in EdTech, an Apple Distinguished Educator, Google for Education Certified Innovator & Trainer, a PBS Lead LearningMedia Digital Innovator for Missouri, and in 2006, she was honored as Teacher of The Year for the St. Louis Public Schools. She has also served on the advisory panel for ISTE's member magazine, Empowered Learner, previously as the ISTE Digital Equity PLN Co-Chair. Her work has been featured in several EdTech publications including, Tech & Learning Magazine, Scholastic Administrator Magazine, Edtech Magazine, Entrsekt Magazine, and she also served as a monthly columnist for many other journals and magazines. She is a national keynote speaker and presenter and was a featured TED Master Class speaker at the ISTE 2018 conference in Chicago Illinois. On a personal side, she is a proud wife to her husband Brian, and mom-in-chief to their five sons.
Director of Technology Services
Ladue School District
Saint Louis, MO
United States
Committees
ISTE Board of Directors
Membership Linkage Committee
Board Nominating Committee
PLN Leaders
I'm a speaker!
Educator Patricia Brown presents her TED Talk on how digital media can transform the way people interact and make students come alive. Watch to learn how to have important, compassionate discussions with students on today's tough topics.