Member-at-Large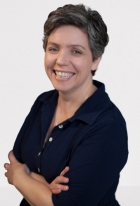 Christine Terry, is a research and strategy advisor with the eMINTS National Center and office of Outreach and Engagement at the University of Missouri College of Education. She has 20 years of experience developing and investigating educational solutions that serve diverse populations including those with the greatest needs.

In addition to her tenure as Director of the eMINTS National Center, Christine has served as project director or assistant project director on over 30MM in Federal research grants, including two Investing in Innovation (i3) Validation grants awarded to study the eMINTS program, and an NSF grant focused on teaching students computational thinking as they design and program their own video games.

Christine also finds time to volunteer with her daughter's Girl Scout troop and First Lego League team.
Advisor, Research and Strategy
University of Missouri
Columbia, MO
United States
Committees
ISTE Board of Directors
Membership Linkage Committee
Board Nominating Committee