November 2, 2022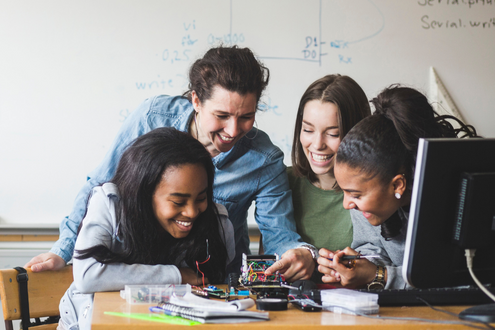 The Innovator Solutions section includes contributions from corporate sponsors and advertisers representing education organizations, businesses and other influencers dedicated to transforming education. This blog post was provided by the Presidential Awards for Excellence in Mathematics and Science Teaching.
Do you teach students in 7th–12th grade? We're seeking exceptional middle- and high school teachers to apply for the Presidential Awards for Excellence in Mathematics and Science Teaching (PAEMST), the nation's top honors for K–12 STEM.
Since the PAEMST program's inception in 1983, more than 5,200 awardees – many of whom are technology teachers – have been selected for this honor. These educators have taught in classrooms across the country, from one-room schoolhouses in rural Montana to large school systems in the heart of New York City.
While their teaching experiences may differ vastly, PAEMST awardees have one thing in common: They have deep knowledge of the subjects they teach, as well as the ability to motivate and enable students to be successful. Collectively, they reflect the expertise and dedication of the nation's teaching corps, and they demonstrate the positive impact excellent teachers have on student achievement.
Who can apply?
Full-time STEM teachers at the 7th-12th grade level with at least five years of experience. Elementary school teachers (K-6th grades) will be eligible to apply during a future cycle.
Who can nominate?
Anyone — principals, teachers, parents, students or members of the public — may nominate exceptional STEM teachers. Teachers may also self-nominate.
Why apply?
Recipients receive a certificate signed by the president; a paid trip to Washington, D.C., to attend a series of recognition events and professional development opportunities; a $10,000 award; and the opportunity to join a cohort of over 5,200 award-winning teachers. Watch this video for a recap of our most recent recognition event.
Don't wait! Start an application or nominate someone you know today at www.paemst.org. Nominations will be accepted through Jan. 9, 2023, and applications are due by Feb. 6, 2023.