Homepage

•

Learning Library

•

Blog

•

BITlab: A Makerspace That Connects Students to Content Learning

BITlab: A Makerspace That Connects Students to Content Learning
•
•
•
BITlab: A Makerspace That Connects Students to Content Learning
BITlab: A Makerspace That Connects Students to Content Learning
By Stacey Roshan
April 28, 2023
Imagine if students had access to a creation library that, instead of books and periodicals, contained a wide range of equipment and tools, from glue and popsicle sticks to laser cutters and 3D printers. And what if they could use this space to create tangible artifacts depicting their understanding of a topic, while also learning how to use cutting-edge tools?
That's the idea behind the Bullis Innovation and Technology Lab (BITlab) at Bullis School in Maryland, where each student will create at least one project before they graduate. It's specifically designed to be a space for student exploration and creativity across all subjects.
While boosting engagement and having fun are important components of the BITlab, there is a larger question that drives project design at Bullis: How can we create projects that genuinely extend student learning?
When working with teachers, BITlab coordinator Matt Zigler's first question is, "What are you trying to help your students understand?" This question helps to center the discussion and brainstorming around how students will show their learning through the making of the project. The final object they create should be a tangible representation of the student's deep understanding of the topic.
Collaboration Is Key to BITlab Success
One of the most exciting aspects of being a teacher at Bullis is the rich opportunity for collaboration. You see lower schoolers buddy up with upper schoolers and teachers collaborating with peers across departments. This spirit of collaboration is at the heart of how Zigler runs the BITlab.
Zigler's schedule is set up similarly to that of a school librarian, allowing him to be available throughout the day for students and teachers to schedule a time to work with him. This approach has proven successful, as the BITlab is always buzzing with activity and different groups of students pass in and out throughout the day. Teachers also drop in during planning periods, usually with a project outline in mind, and then work closely with Zigler to refine the project to allow for maximum student creativity and expression of ideas. As much as possible, they try to structure projects in ways that will allow students to infuse elements of their personalities into the objects they will be creating.
The BITlab offers various classes for upper school and middle school students, including intro and advanced maker lab classes, Making for Social Good, a year-long introduction to engineering, robotics electives, research design and methods, and a STEM capstone course. A fashion technology course is also in the works. Even with this busy schedule, space is set aside for K-12 classes and individual students who need access to equipment or one-on-one time with Zigler.
Lower School Project Highlights
Kindergarten Snowflakes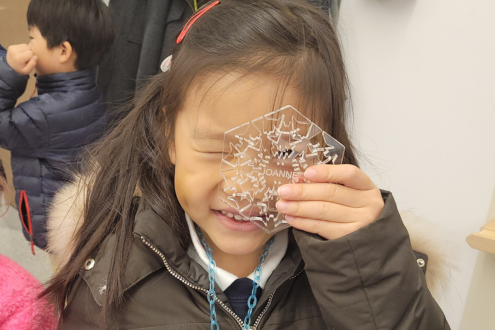 Even the youngest Bullis Bulldog is welcome in the BITlab. Last winter, the kindergarten class wanted to create a bit of frosty magic in keeping with the season, so they headed over to the BITlab to make snowflakes. Instead of creating traditional paper snowflakes, they made acrylic laser-cut snowflakes with custom designs. Students started on computers, using a digital program to mark out their "cuts" on a triangle, which would "unfold" to make their final snowflake design.
This triangle composed one-sixth of the snowflake and used all the concepts of symmetry that students would experience when creating a traditional paper snowflake. After marking their cuts with mouse clicks, they previewed what their creation would look like when unfolded. This led to conversations around whether the unfolded design looked like what they were expecting. If they weren't satisfied with the design they made, they could continue to tweak it.
After finalizing their digital design, kindergarteners submitted their creations for print. Zigler repurposed the clear acrylic that was used for COVID barriers as material for this project. He used the laser cutter to engrave each student's design for them to take home and enjoy. One kindergarten student, Raphael, has repurposed his project, telling us, "Since he popped out the star of the snowflake and gave it to me because I asked, it became a fidget I use at home."
Kindergarten teacher Hae Ree Park was also impressed with the project.
"It was awesome to see how even the youngest students were able to incorporate their own creativity and a personal touch of uniqueness into their snowflake projects," Park said. "This opened up a lot of discussion points for science as well as design. We talked a lot about the design process, the creation, the end result, lasers, recycled plastic, texture of the plastic, and more!"
Second Grade Butterflies
During a unit on insects, second graders visited the BITlab to create butterfly models. To prepare for this project, Zigler used the laser cutter to cut out the butterflies' body parts, which students then assembled, drawing on what they had learned in class. As students constructed their butterflies, they talked about what each body part represented. They also compared what they were learning about insects, like how many legs they have, to what they had learned about arachnids in a previous unit.
One of the important aspects of this project was for students to use their understanding of patterns and symmetry to color the plastic wings of their butterflies. They also were challenged to talk about the behavior of insects and butterflies, in particular. After designing the wings and gluing all of their butterfly's body parts together, students took their laser-cut projects home to share with their families.
Fifth Grade Entrepreneurship Fair
The fifth grade entrepreneurship fair at Bullis is a big deal. Students apply their learning from different subjects and flex their collaboration and communication skills to bring their ideas to life. Students have the option to work individually or in teams, and many of them create physical objects as part of their projects. Here is where the BITlab comes in.
As any entrepreneur will tell you, hiring experts and careful budgeting are important components of a successful business. Fifth-graders have a budget for their projects and can use it to print designs and physical objects in the BITlab. To kick things off, they discuss the fundamentals of design and talk about what makes an idea a good one. Students receive guidance from Zigler on how to use the lab to bring their ideas to life and learn about the fundamentals of design. As he likes to say, "design things in your mind and let the robots make them."
After students come up with their idea and lay out what they will need, they consult with Zigler, requesting a cost quote for the physical items they need for their project. Student requests range from 3D prints to digital embroidery to labels and stickers printed on the vinyl cutter. Zigler assesses each proposal and sends back a quote for the order, and the individual or group decides to accept or reject it.
Zigler helps students design using the easiest software possible for the project, such as TinkerCAD for 3D projects. Not all students want to design digitally, though. Those who prefer to design in a hands-on way can sculpt a physical object and use the 3D scanner to digitize their design.
Some recent project designs included:
Hand-painted cats: One student requested 3D-printed cats, which were printed in the BITlab. After receiving the order, the student hand-painted and sold the figurines.
Lip balm: A group designed a sticker logo, which was printed on the vinyl cutter. After their order was fulfilled, they affixed their custom stickers to the lip balm jars they sold.
Game prizes: Another group asked for various small prizes to be 3D printed to encourage people to play their game during the entrepreneurship fair.
Middle School Project Highlights
7th Grade Science
Seventh-grade science teacher Karen McPhaul has taken her students to the BITlab for a variety of projects. Not only does she find these experiences enriching for her students, she finds the collaborative process invigorating professionally as well. She appreciates that Zigler gets her out of her tech comfort zone.
"I came to him a few years ago with the idea that I wanted my students' creative juices to imagine a cell and its organelles by comparing it to something unique like the Star Wars Death Star or Alcatraz prison," she explained. "Now, not only do they get to think deeply about the content, but they are also exposed to Tinkercad 3D programming and augmented reality. I've said it before and I'll say it again, Matt Zigler is the Willie Wonka of Bullis' Bitlab. He gives our students 'Golden Tickets' to explore 'worlds of pure imagination.'"
For several years running, seventh grade science students have headed to the BITlab during their unit about parts of a cell. Students work in teams to create a metaphorical representation of a cell using TinkerCAD.
Students always have fun coming up with a theme, with ideas ranging from a Taylor Swift concert (the arena is like the wall; Taylor Swift is like the mitochondria because she creates the energy at the concert) to a farm (where the farmer represents the nucleus).
Algebra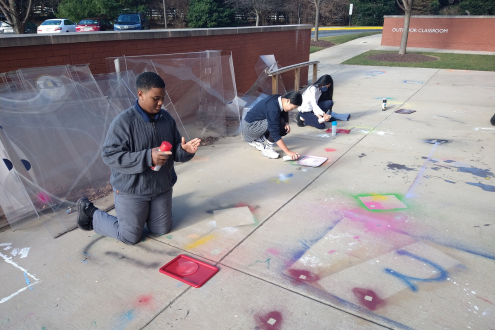 Middle school algebra students create custom clocks as a cumulative review activity when studying for exams. Their task: come up with 12 expressions to represent each of the numbers on the clock. As an example, in place of the number 3 on the clock face, they would come up with an expression representing the number, such as:

After coming up with their 12 expressions, students receive an acrylic circle, which they get to spray paint to capture their personal style. The next step: Use the laser engraver to etch their expressions into the clock face. Lastly, they put hands on the clock to make it functional.
The final component of this project is for students to share their clocks with their classmates to practice solving a variety of expressions as they study for their exams.
Upper School Project Highlights
World Language Integrated Performance Assessment
Integrated performance assessments (IPAs) are a core part of how world language teachers assess students at Bullis. These assessments allow students to practice their language skills in an authentic, real-life way. This year, one of the objectives was for students to talk about themselves – their background, heritage, interests, etc. To enhance their presentation, teachers decided to have students create a physical object in the BITlab that would add deeper meaning to their talk.
Some examples of symbolic objects that students created this year include:
Mola: A Mola is a traditional textile art form made by layering and hand-stitching multiple pieces of brightly colored cloth to create intricate designs and patterns. Molas are commonly used to decorate clothing or as decorative wall hangings. This student used the laser cutter to cut felt into various patterns, including a butterfly, eagle and moon, which symbolized elements of their identity. During the IPA presentation, the student explained why they chose each item and how it relates to who they are.
Flags: Students used the laser cutter to create flags from various countries, incorporating symbols within the flag that represented aspects of their personality or interests. The flags were used to highlight specific parts of their identity during their IPA presentation.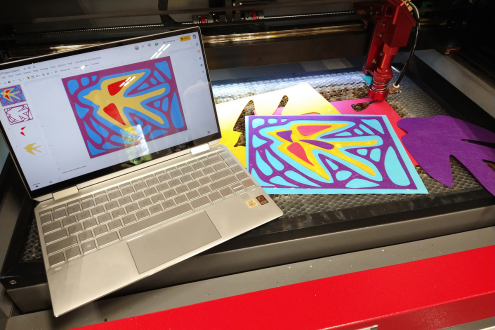 Eleventh grader Nathan said the Mola Project was one of the most innovative projects he's done.
"It was incredibly rewarding to learn about the cultural significance of the mola and then make one ourselves using the materials and equipment from the BITlab. We used methods in the BITlab that significantly cut down the amount of time it took to make the mola, and this made me truly grasp the amount of time and work it took using the traditional method."
Ancient African Cultures
In African American history, students research the history, symbolism and culture of ancient African civilizations as part of a research project. One component of this project requires students to create an artifact that represents the culture they are assigned, but there is a twist to this assignment — students are to imagine that this culture is still alive today. Given the technology we have now, what would this artifact look like?
This project requires students to have a thorough understanding of the symbols that were used and the meanings behind them, and then creatively reimagine what these designs would look like with access to modern technology. If this civilization were alive today, what would they be making?
One student designed an iPhone case inspired by the West African Yoruba tribe, with a historical ruler engraved in the surface. Another student created a snow globe depicting artifacts from ancient Egyptian art and constructions.
Graphic Design Class
Graphic design students used Adobe Illustrator to create cartoons of themselves. They then made contour-printed stickers, which they could place on their laptops or water bottles, allowing them to personalize their belongings. This project helped students express their individuality and allowed their classmates to learn more about them through their choice of representation.
A Space for Everyone to Create
The Bullis BITlab is a welcoming space for all students, from kindergarten through 12th grade. By prioritizing projects in various content-area classes, every student has the chance to do hands-on work in the space and be exposed to a range of tools and creative projects. The BITlab caters to the individuality of each student, as everyone has their own creative style. The space offers more than just digitization and fancy printers, saws and hammers — the Bullis BITlab provides students with the opportunity to explore their creativity and develop new ideas in a supportive and innovative environment.
Zigler loves how the lab brings out the creativity in students. "Adults will often say to me that they aren't creative, but creativity isn't something you have or don't have, it's something that you practice," he said. "I want to make sure that all of our students have an opportunity to practice their creativity in whatever area they are interested in so that when they are adults they already know how to use it."
Stacey Roshan is an educator, keynote speaker, TED-Ed talker, consultant, and author of Tech with Heart. She is passionate about discovering and sharing ways to leverage technology to cultivate deeper compassion in the classroom and provide each learner with the optimal platform to express their ideas in a format that best fits their style. She aims to equip teachers with ideas and tech tools to create more inclusive, equitable, and empowering classrooms for every student to find their voice, build their confidence, and take ownership of their learning. Her work has been featured in USA Today, The Washington Post, CNN, and PBS Newshour.
Matt Zigler is writing a book about teaching high school students in the makerspace titled Three Modes of Making; Imitation, Modification, and Innovation. It is scheduled to be published this summer.