Homepage

•

Learning Library

•

Blog

•

Free classroom poster: I am a digital age learner

Free classroom poster: I am a digital age learner
•
•
•
Free classroom poster: I am a digital age learner
Free classroom poster: I am a digital age learner
By Team ISTE
October 28, 2016
Join the empowered learning revolution! Student-centered learning — where student voice and choice are placed at the center of education — is more important and more possible than ever before. When students determine their own education destiny, they develop a lifelong passion for learning. That's why the 2016 ISTE Standards for Students are designed to empower student voice and ensure that learning is a student-driven process of exploration, creativity and discovery.
The new student standards outline seven skill areas that teachers and digital age learners should develop together to help students thrive in an increasingly connected world. But it's one thing to learn about the standards and another to see what they look like in action. As you embark on your journey to explore and adopt the 2016 ISTE Standards for Students hang up this poster in your classroom as a reminder to you and your students of what effective digital age learning looks like.
Click on the image below to download a printable version of the 'I am a digital age learner' poster for your classroom.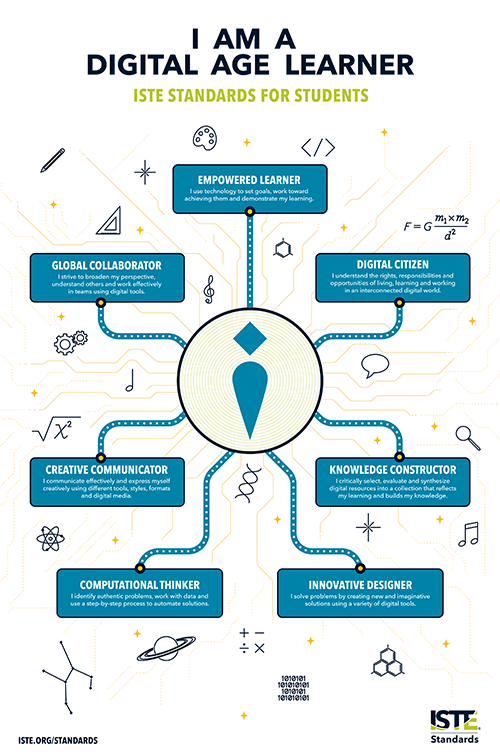 Now that we've refreshed the ISTE Student Standards, we're updated the teacher standards. You can help by sharing your perspective on the first draft of the 2017 ISTE Standards for Teachers. Complete the 15-minute individual survey then share the links with colleagues so they can weigh in too. Or host a feedback forum using an ISTE-provided toolkit — at a conference, in a meeting with colleagues, even as a Twitter chat. The public comment period closes at the end of February 2017.