Homepage

•

Learning Library

•

Blog

•

These AI Tools Will Make Educators' Work Easier

These AI Tools Will Make Educators' Work Easier
•
•
•
These AI Tools Will Make Educators' Work Easier
These AI Tools Will Make Educators' Work Easier
By Jorge Valenzuela
May 1, 2023
AI tools recently made available to the public have the potential to dramatically reduce educators' workloads, especially when it comes to rote or mundane tasks.
They can speed up our work and put learning at our fingertips. AI-powered systems can simplify decision-making and problem-solving, recognize patterns, enhance creativity and comprehend language by accurately imitating human intelligence.
Did you know AI-empowered apps can enhance the quality of your web searches, email writing and multimedia content? Here's how I'm using AI tools in my teaching and daily tasks, with tips for helping you leverage their power.
ChatGPT: An AI-Powered Personal Assistant Chatbot
Increased computing power and data availability have made AI algorithms more sophisticated, allowing educators to perform complicated tasks much more efficiently and effectively. ChatGPT has become a personal assistant helping me recover some of the time I spend preparing lessons for my students and coaching clients. My Edutopia article provides step-by-step prompts you can use in ChatGPT to streamline well-organized evidence-based lessons for your learners.
Additionally, ChatGPT can provide valuable information that normally would take considerable time to uncover using search engines. Here are some helpful prompts you can adapt by replacing the nouns to hurry along the research and brainstorming phase to improve your teaching.
What are some potential barriers to teaching computational thinking to younger learners?
Which high-yielding strategies can better support my English language learners when teaching them how to code?
How can I demystify algorithm design for middle school students? Please provide 3-5 examples.
What computer science education books provide good tips for teachers?
Please provide the sources and websites you used for your responses.
ChatGPT provides expert-like responses, but make sure you verify answers for accuracy.
ChatGPT Writer: Email Generator
ChatGPT Writer is a powerful Chrome extension that uses ChatGPT to help users compose emails and replies using keywords from users or emails received. It's free and can be set up easily using the instructions at this link.
This tool is handy when I have a bunch of emails that need my immediate response. The extension uses ChatGPT to generate helpful suggestions, including structure and formatting, the body of your email, opening and closing lines and the tone you suggest for your recipient.
Before hitting send, review ChatGPT responses for accuracy so they convey your intended meaning.
Remini Web: Photo and Video Enhancer
Before discovering the Remini app, I always wondered how celebrities and major brands produced such great multimedia content on their social channels. I used to believe that creating visually captivating content like theirs wasn't possible for my coaching business.
I was wrong. Remini's photo and video enhancer tools can instantly sharpen and unblur photos and short videos. See the before and after of my 1992 high school photo restored below for the incredible AI-assisted results: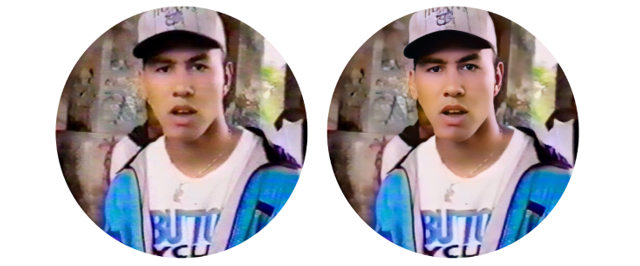 An AI tool with this type of capability can also enhance student work. High-quality photos can add depth and visual interest to various classroom projects across multiple subjects. For example:
History and social studies: Photos can document particular events or eras.
Science: Images can outline the steps taken in an experiment or showcase data analysis results.
ELA: Photographs can serve as visual aids to a presentation or enhance written essays.
Art: Photos can be used for reference for a drawing, painting or collages.
Unfortunately, the level of quality Remini produces doesn't come without a fee. The Remini phone app is free with ads, but the desktop version requires a paid membership.
Vidyo.ai: Make Short Videos From Long Clips
Creating reels to promote my education coaching work and podcast was always an arduous, expensive and time-consuming process that I didn't enjoy. To save time and money and increase my quality and productivity for short video creation, edtech expert Alfonzo Mendoza introduced me to the Vidyo.ai application.
The app uses AI to resize video in native platform sizes for YouTube, Instagram, Twitter, etc., and pulls the most interesting parts of a long video to create shorter ones you can repurpose. If that doesn't blow you away, the app also instantly adds captions and timestamps to short videos it generates for you.
Vidyo.ai also has various membership levels, but the basic version allows users 88 minutes of free content monthly, making it perfect for classroom projects. Follow the steps on this link to begin creating your AI-enhanced videos.
Short videos can add an engaging element to projects allowing students to express creativity and ideas with edtech. Here are some ideas that you can implement for various subject areas:
ELA: Students can create short video book reports or interpret dramatic scenes from a novel or play.
Science: Students can use video to demonstrate experiments and to summarize research findings.
History and social studies: Students can use videos to create a documentary of historical events.
Art: Video can showcase the creative process for producing various forms of art (e.g., sculptures, paintings, music, etc.).
Foreign language: Short videos can model conversations and role-playing for practicing language acquisition skills.
AI Is the Future
AI tools will continue progressing and can impact many aspects of our work and personal lives if we take the time to learn how to best use them. We are at a critical juncture that may leave some behind for several reasons, including lack of access, adequate training or resistance to change. By being mindful of the obstacles, educators can adapt AI tools in ways that model the appropriate and effective use of these wonderful advancements.
Jorge Valenzuela, author of Rev Up Robotics, is a highly regarded performance and education coach, writer and speaker at Lifelong Learning Defined. He has helped countless educators improve their leadership and instructional innovation skills. Jorge specializes in emphasizing core instruction and is a trusted deliverer of reputable professional training in team building, project-based learning, STEM pathways, and SEL integration across the curriculum. He partners with superintendents and provides professional development for ASCD, Corwin, Instructional Innovation Partners, and Solution Tree. He has authored several books and is the Lifelong Learning Defined podcast host. You can connect with him on Instagram and Twitter.
Acknowledgment
I want to thank Lynn Kleinmeyer and Andrew Fenstermaker for their inspiring session on productivity tips and AI tools at the Nebraska Educational Technology Association's (NETA) Spring Conference. Their presentation motivated me to share the AI tools I use in my writing to help others.