When visitors arrived at Hong Kong's Ocean Park Aquarium this year, they had an opportunity to swim with sharks and sea turtles without getting wet. Hong Kong students created a virtual aquarium where visitors learned about the habitat and eating habits of the endangered sea creatures and the many ways humans endanger their lives.

Students at The Education University of Hong Kong, Jockey Club Primary School (EdUHKJCPS), and five other local schools participated in an after-school pilot program called Discover2se-Metaverse in Education. The 10-hour project-based program allows 120 students in grades 4-6 to choose an endangered sea animal to research. Students use a combination of online sources and marine biologists from the local aquarium Ocean Park to study the animals and the environmental challenges they face. Using Minecraft for Education, the students' virtual aquariums taught visitors about sharks, sea turtles, and other sea creatures.

Eleven-year-old So Ho Yi studied sea turtles and created an underground museum showcasing the difficulties green turtles face due to human activities. Not only did she learn new information about sea turtles, she tapped her research skills, learned Minecraft technical skills and collaborated with her teammates.

"I significantly improved my ability to present effectively," So said. "Many visitors were inspired to take conservation actions after hearing our presentation. Seeing the positive change and knowing that our efforts have made a difference, I firmly believe that all the hard work and dedication were truly worth it."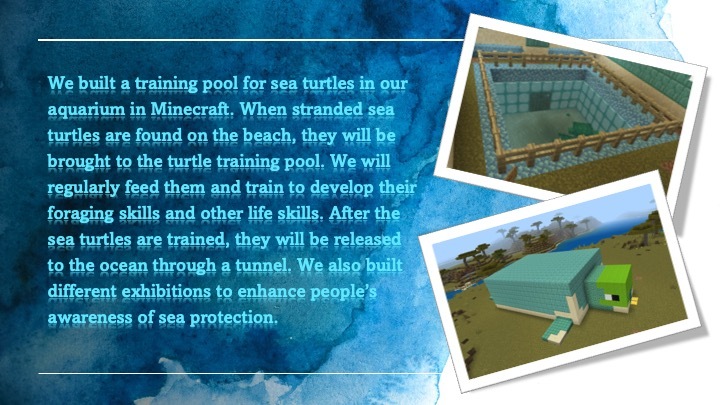 Discover2se won an ISTE Esperanza Edtech Heroes award for the innovative way students used the metaverse to learn about and brainstorm ways to solve a problem in their local community. The program is on track to impact 3,000 students in Hong Kong. Students are learning about marine biology, conservation and technology and using those skills to improve their world.
"Students are part of the metaverse generation, learning to live in the metaverse, mastering communication and collaboration skills and attitudes in the virtual world, protecting personal privacy and respecting intellectual property rights," according to a written description of the project. "Furthermore, students should broaden their horizons, not only learning to fulfill their responsibilities as global citizens but also shouldering the identity of digital citizens, understanding their role in the 'meta-universe,' and equipping themselves with an early understanding of the future."
Origins of Discover2se
Hong Kong has a long tradition of connection to the surrounding water, says Chan Hong Yee, core member of innovative education at EdUHKJCPS. The local educators focused the project on life below the water and tied the project to the sustainable development goals proposed by the United Nations. The objectives are for students to have diverse experiences in the metaverse, understand the distinction and integration between the virtual world and real life, and learn how to interact within the metaverse. All while solving problems that exist in their local communities.
"A few decades ago, we were a fishing village, which turned into an economic hub," Chan explained. "We are also one of the most famous ports for export and trading in the world. So, water life is important for Hong Kong people. Right now, there are people still living on the water. It is part of our local culture."
In addition to the UN sustainable development goals, the project design draws on a report titled, "The Future of Education: Four Scenarios for School Education" by the Organization for Economic Cooperation and Development (OECD), which recommends schools connect with local stakeholders to bring in experts from various fields. The experts share their knowledge with students, enriching student learning experiences. In this case, the experts include marine biologists who work at Ocean Park and offer to share their knowledge about sea animals.
EdUHKJCPS is not new to technology. The school has relied on the ISTE Standards in developing its approach to technology for the Discover2se project and throughout its curriculum. Students use social platforms like Minecraft for Education to interact with others and share their learning experiences. They curate information with digital resources and use digital tools to connect with learners from various backgrounds and cultures.
Program developers drew on the ISTE Standards and the SDGs but worked closely with colleagues on specifics. Before the program convened, an inter-school focus group of principals and teachers discussed the instructional design, desired student experience and potential ethical and safety issues.
For the first year, the schools ran the program as an extracurricular program, allowing educators to evaluate it before integrating it into the core curriculum. The extracurricular nature of the program allows the schools to assess it before it advances to the core curriculum of the school.
Program organizers decided to use technology to maximize students' learning experience. Students use Padlet and MR to collaborate in groups and research endangered marine animals. They use Microsoft OneNote and the classroom whiteboard to list what they know about the animals, define the problems the animals face and list what information they still need. They then use Microsoft Search Coach, as well as experts from Ocean Park, to help with more research.
After the students generate their ideas for confronting the environmental challenges, they use Minecraft Education to prepare their aquariums and the presentation they will give to visitors to Ocean Park, program stakeholders, parents and fellow students at the school. Lastly, students receive feedback on their presentations and make adjustments.
The EdUHKJCPS has been an accredited Microsoft Showcase School since 2014, so Minecraft for Education was a natural tool for the project. Minecraft for Education had several benefits, says Law Kam Yuen, EdUHKJCPS vice principal. The platform offers safety, diverse education content aligned with curriculum standards, collaboration features and the ability to customize and address learner diversity.
Minecraft has been around for more than a decade, so lots of people know how to use it, and it's also very easy for a lot of students to join together without paying a lot of money," Law explained.

The school also took advantage of renovated classrooms, called the Window Classroom Design, which allows students to collaborate more easily. Tables move about the room so that students can work individually or in groups, and even change their roles and become mentors to other students. The design allows teachers to become facilitators of learning rather than lecturers. The classrooms are also equipped with advanced technology that allows students to connect with experts from around the world.
Cross-Curricular value
In addition to learning about marine biology, students gained technology skills, which they used to create their metaverse. Students developed their reading skills through the research they conducted to understand their animals, and they used language skills to interview experts and present their ideas. In the Minecraft aquariums, students narrated in both Mandarin and English.
Students also honed their digital literacy skills. Their digital twins in the metaverse needed to know how to behave and use language appropriately online, as well as how to search for reliable information online. Students learned online safety, including avoiding sharing personal information and being cautious about accepting friend requests or engaging in private conversations.
Chan Yik Hong, age 11, learned about sea creatures beyond the shores of Hong Kong. Chan's group studied the axolotl from Mexico. Chan fell in love with the animals as soon as he saw them.
"With their endearing external gills and charmingly wide mouths, axolotls often sport a smiley face-like expression," he says. "However, their regenerative abilities have made them susceptible to human hunting activities for cellular regeneration medicine and cancer research. Their unique appearance has made them targets of illegal pet trade."

After learning about the causes of their population decline, Chan created a Minecraft world where axolotls could live safely. He put some partitions in the lake to keep other fish or animals away so the axolotl could reproduce safely. He set the water temperature between 16-20 degrees Celsius since extreme temperature fluctuations can be stressful or harmful to their health.
Out of love for the axolotls, Chan volunteered for clean-up activities and supported organizations dedicated to protecting marine habitats and sea creatures.
"Not only have I learned fun facts about the axolotl, but I've also realized there are many natural wonders to be found in richly biodiverse waters," Chan said. "It was eye-opening to discover the causes of their endangerment, and it made me realize the importance of preserving their natural habitat and taking action to protect the endangered marine animal."
The empathy students developed for endangered marine animals is perhaps the project's most valuable outcome. Through observing the animals during field trips and learning details about their animals from Ocean Park experts, the students learned to value the species and advocate for their conservation, says Cheuk Wai Han, EdUHKJCPS's coordinator of innovation and technology.
"Protecting sharks and marine ecology is everyone's responsibility," Cheuk says.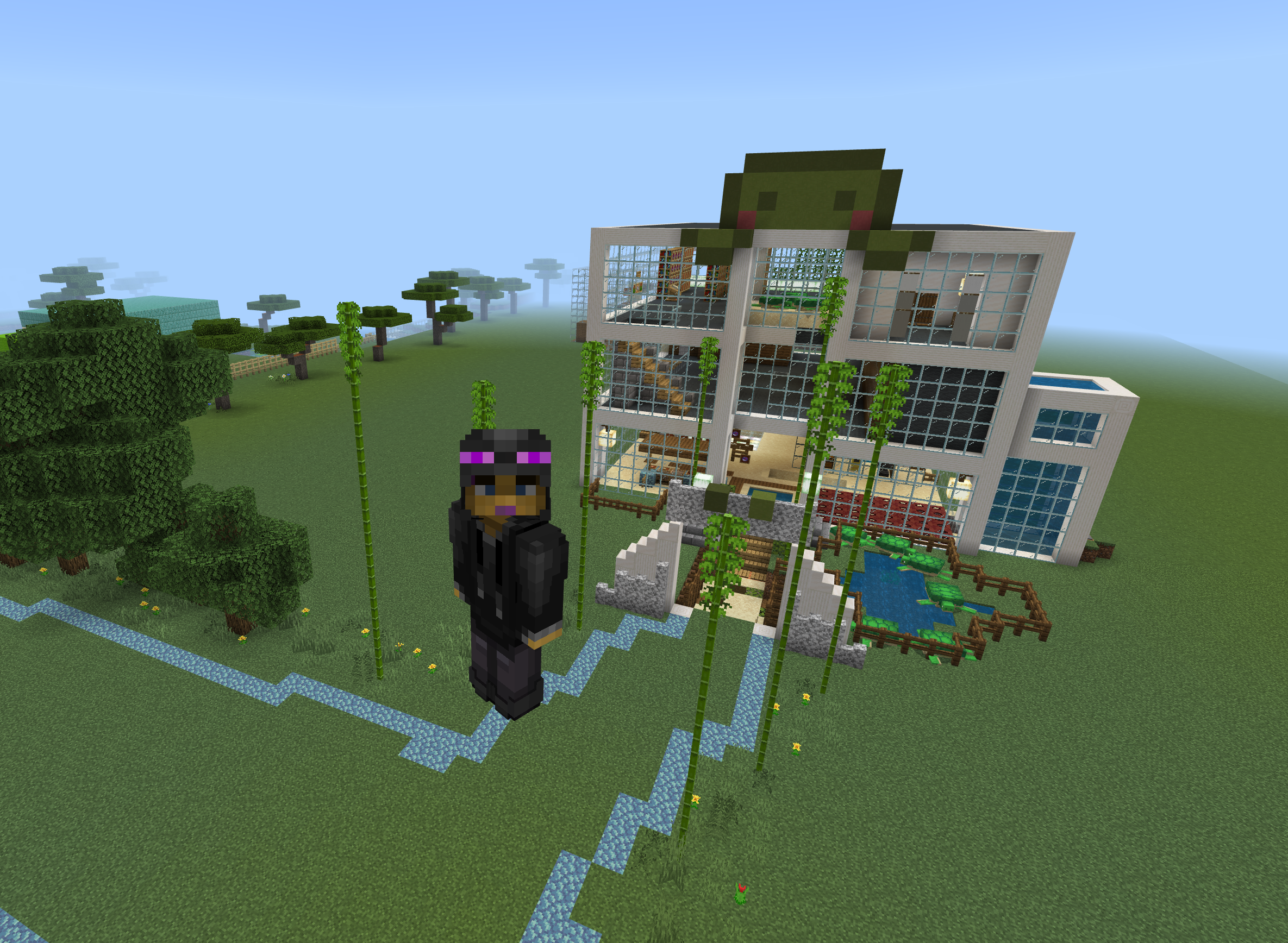 Theory of Change
Like Chan, students who participate in Discover2se undertake a project that promotes positive change in the world. The project's impacts reach beyond the classroom to people across Hong Kong. The project aims to educate the Hong Kong public about pollution in its ocean and how to protect its valued sea life.
"The project aims to impact students, teachers and community," reads the project description. "Sowing the seeds of using the metaverse in education for teachers across Hong Kong."
For the Discover2se project, partnerships with technology companies and other stakeholders freed up educators to off-load nonteaching tasks, allowing them to dedicate their time to supporting students. The community partners offered expertise not readily available in the school, such as experts in marine biology.

Teachers in the Discover2se project take on a different role by stepping back to let students step up. Students were the key creators, while teachers worked as facilitators. They provided necessary resources in the classroom, clarified learning objectives and facilitated group discussions to encourage collaborative problem-solving. In the metaverse, teachers helped students navigate virtual spaces, use edtech tools effectively, and promote critical thinking by asking probing questions and guiding students to find their solutions. They also monitor progress, provide feedback and assess learning outcomes.
In this innovative classroom, teachers also became students. They experimented with using the metaverse as an assessment tool. Since the concept was new to many teachers, they spent time researching best practices and staying updated with educational technology. Those teachers took what they learned and shared those practices in professional training workshops and seminars.
Further, teachers begin to approach the use of edtech through the lens of the Technological Pedagogical Content Knowledge (TPACK) Framework, which encourages educators to consider pedagogy and content knowledge in relation to technology.
They changed their role and teaching approach by recognizing students and various stakeholders as co-agencies to help students progress toward their shared goals.
In the year ahead, schools will integrate the program more fully into the curriculum. Future topics include climate change and polar bears or fishery rafts common to Hong Kong.
"Students develop empathy, which increases their willingness to take conservational action. They also promote public awareness of marine conservation," Cheuk says. "They go home and talk to their parents, motivate their counterparts and adults in the community. So, the project brings a great impact to society. The project creates a sense of ownership that makes them more willing to engage and share with their peers."