November 25, 2020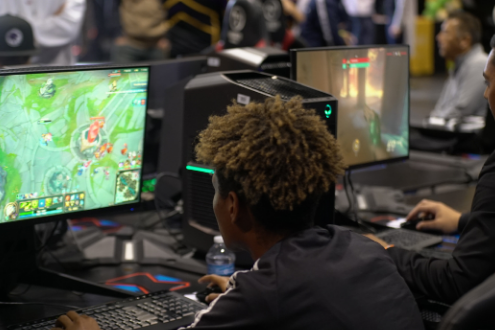 In the world of scholastic esports, Kevin Brown is something of an evangelist.
He wants to spread the word among educators that esports – aka competitive video gaming – are an incredibly effective way to get students engaged both intellectually and socially. They connect student interests to learning in a powerful way, he says.
In other words, there's a lot more going on with esports than just kids playing video games.
He also wants educators to know that esports aren't just about clubs and after-school leagues but can be used in the classroom to support just about any subject.
Brown is an esports program specialist, a position he holds jointly with the Orange County Department of Education and the North America Scholastic Esports Federation. He calls himself a unicorn.
"There's no one else out there that I've bumped into who specifically is an esports program specialist who writes curriculum, trains teachers, and then teaches in multiple languages on multiple continents to get this word out there," he said.
Esports to be spotlighted at ISTE20 Live
Brown will be part of a team of people putting on a full-day presentation on esports on Dec. 5 at ISTE20 Live. The event, sponsored by CDW-G, will offer a look at esports from the bottom up and the top down.
There will be live game play among students as well as separate panel discussions with students, administrators and researchers. The student panel will focus on what they get out of esports while the school administrators will talk about why they've embraced them. The researchers will explain the underpinning of it all.
It's a big day because it's everything about esports," Brown said. "It's the entire package. It's not just about the game, although games will be played and students will be showcased. But it really is having the students tell us and show us why this is meaningful.
"If you don't know anything about esports, that's the day to jump in and really get some idea of what it's all about."
No experience necessary to start an esports program
Brown says esports have seen explosive growth in the last few years. The North America Scholastic Esports Federation started as a regional program in Southern California with 25 clubs and 38 teams. In 2½ years, it has grown to include more than 1,000 clubs and 11,000 students in North America.
NASEF is a nonprofit organization started by the Samueli Foundation to promote esports among students. Its services – including out-of-the-box esports programs, curriculum and a fellowship program for educators – are free.
Starting an esports program is not necessarily an elaborate undertaking. Eduardo Rivera, an instructional technology specialist for the Palm Springs Unified School District, will be a presenter alongside Brown. He said the district's esports program started with one teacher. It has since grown to include teams at the district's four high schools along with coaches who receive stipends like those in athletics. In-depth knowledge of videogaming isn't necessary either.
"Out of five teachers involved, only one has a real understanding of esports," he said. "The rest of them just love kids; they're definitely not experts in esports or gaming."
In addition to the all-day program on esports, Brown will be among a group giving short talks at the Esports Lightning Talk and will also lead the session Esports-centric Curricula: Paving the Road to Higher Education Through Play and Passion.
Other sessions on esports include: